Dear participants,
Please note that the repertoire for the masterclass has been changed on May 28th.
"Music is a means capable of expressing dark dramatism and pure rapture, suffering and ecstasy, fiery and cold fury, melancholy and wild merriment and the subtlest nuances and interplay of these feelings which words are powerless to express and which are unattainable in painting and sculpture."
Dmitiri Shostakovich
Jeunesses Musicales Conducting Masterclass
Maestros: Christian Ehwald & Sigmund Thorp
Orchestra: Royal Camerata Orchestra
August 17 – 21, 2021 in Bucharest, Romania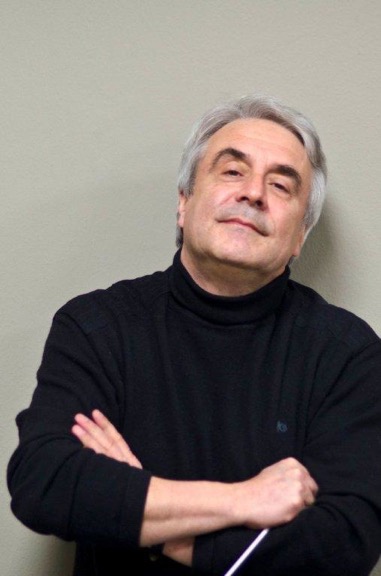 CHRISTIAN EHWALD
Art Director & Chief-Conductor, Shenzhen Symphony Orchestra
Christian Ehwald was born in 1953. After the completion of his studies in Berlin, he continued his education under Arvid and Mariss Jansons at the Leningrad Conservatory. In 1979 he became a laureate of the "Herbert von Karajan" International Conducting Competition.
From 1981 to 1988 Christian Ehwald was the main conductor of the Jena Philharmonic. It was also during this time that his close cooperation with the Berlin State Opera began, with Ehwald conducting several premieres and numerous performances. In addition, he conducted the Berlin State Orchestra on concert tours in Great Britain, Australia and New Zealand.
Christian Ehwald has gone on to perform as a guest conductor with all the leading German orchestras, including Berlin Philharmonic, Dresden Staatskapelle, Dresden Philharmonic and the symphony orchestras of the Bavarian Radio Munich, Western German Radio Köln and Berlin Radio. Invitations from the Gewandhaus Orchestra of Leipzig have followed especially frequently. Abroad Christian Ehwald has served as a guest conductor with many important orchestras in Europe, America, Japan, Korea and China. He has appeared in numerous television productions with the NHK Orchestra Tokyo, St.Petersburg Philharmonic, RAI of Rome, Prag Symphony and Bavarian Radio Symphony Orchestra.
From 1998 to 2003 Christian Ehwald was the General Music Director of the Magdeburg Theater and principal conductor of the Magdeburg Philharmonic. In 2002 he was appointed professor at the Academy of Music "Hanns Eisler" in Berlin. Since 2007 he has been the Art Director and Chief-Conductor of the Shenzhen Symphony Orchestra.
Sigmund Thorp
Professor of conducting, Norwegian Academy of Music
Sigmund Thorp is one of Norway's leading conductors. In addition to having conducted all the Norwegian orchestras, he has performed numerous concerts with orchestras in many European cities, including London, Paris, Berlin and St. Petersburg.
He was the 1st Prize winner of the Biel International Conducting Competition 1989, and he also won 2nd prize in the Austrian-Hungarian International Conducting Competition in Pecz, 1994. He studied orchestral conducting with Normal Del Mar and Christopher Adey at the Royal College of Music in London. During his studies, he won several prizes, including "The Tagore Gold Medal", as the best male student 1986.
Sigmund Thorp is professor of conducting at the Norwegian Academy of Music in Oslo, educating tomorrow's conductors, in addition to teaching contemporary music. He is the artistic leader of the Norwegian Academy Sinfonietta, and has conducted more than 350 works by contemporary composers, many of which were national and international first performances.
Based on the theories and practices of Dr. Walter Hügler (Trossingen) Thorp has developed "The Anatomy of Conducting – a Method of Improving Conducting Technique". The method has proven to be highly effective for musical projection and for non-verbal communication between the musicians and the conductor.
Sigmund Thorp has been Guest Professor at Trinity the College of Music (London), the HAMU (Prague), Conservatorio Guiseppe Tartini (Trieste) and Kunstuniversität Graz.
Royal Camerata
ROYAL CAMERATA ORCHESTRA
The Royal Camerata Orchestra was founded in 2009 under the High Patronage of His Royal Highness Prince Radu of Romania, following the initiative of a group of students and graduates from the National University of Music who wanted to create a professional orchestra capable of contributing to the promotion and development of young musical talents in Romania.
The high artistic level which characterizes this young orchestra is due to the group's inner enthusiasm, passion and energy and to the exceptional talent of each individual musician. The Royal Camerata is a united and homogeneous group in continuous metamorphosis and renewal, as a consequence of the young generations of musicians which are continuously selected to be part of this orchestra.
Despite the fact that the Royal Camerata is a young orchestra, it has worked with leading musical figures such as Maestro Jin Wang, Zhani Ciko (Tirana Opera Director), Maestro Wolfgang Doerner (Austria), Maestro Enrique Garcia Asensio (Spain), Maestro Rony Rogoff (USA), Dumitru Goia, Constantin Adrian Grigore, Cristian Lupes, the violinists Cristina Anghelescu, Ioana Goicea and Simina Croitoru, the percussionist Alexandru Anastasiu, the mezzo sopranos Marianne Cornetti ( USA) and the soprano Nelly Miricioiu.